You've been Framed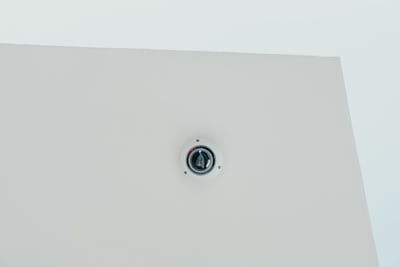 I'm not afraid to tackle the big childcare issues here at East Green and after speaking to a nanny the other day, I wanted to cover nanny surveillance and the issues surrounding nanny cameras. You might have security cameras in your home to capture footage of criminals at work (hopefully never required!) but did you know that you need to inform your nanny? Perhaps the cameras were installed to keep an eye on your nanny – do you know your obligations and their rights? You could be breaking the law and damaging a very important relationship at the same time.
Parents
Parents, I know it's hard to leave your children with someone new. Whether you've recruited your nanny via a child care agency or found one yourself, you probably don't know your nanny as well as you'd like.
You will have gone through all the necessary steps (interviewed them – preferably twice; introduced the nanny to your children and allowed them to spend time together; requested and reviewed references; arranged a date to meet up before the start date, and agreed a handover), of course, but you don't know everything about them.
And this is where you have a choice.
Ernest Hemingway said, 'The best way to find out if you can trust somebody is to trust them,' and this is the option that many parents take. They know that they, as well as the childcare agency, have performed all the 'due diligence', carried out all the checks that they can, and that the only next step is to trust. They might ask the nanny to keep a diary of what they've done during the day, send photos or videos to them of highlights or special moments but ultimately, they trust in the process and they trust that they have chosen the right nanny.
On the flip side, some parents might want to use technology to help them keep a watchful eye over their nanny's performance of her role, installing a security camera or 'nanny cam' to check the footage every so often (perhaps even daily) to monitor what's going on day-to-day. This option is surrounded by legislation so it's critical that you approach it correctly.
• Cameras must only be installed in areas where one doesn't require privacy i.e. they definitely should not be installed in bathrooms or bedrooms for live-in nannies;
• You must tell your nanny that you have cameras installed, regardless of the purpose, and their location/s or put up signs near the cameras to say that recording is taking place;
• Nanny cam footage can only be kept for a reasonable time – 30 days is deemed reasonable;
• Footage can not be shared with anyone. By making these recordings, you are in effect capturing your nanny's personal data; sharing footage on social media or with friends, relatives etc is sharing their personal data without their permission to do so. If the footage does end up in the wrong hands, then, as it is yours, you will be liable.
Nannies
In my days of nannying, I didn't work for a family who had cameras installed but I can empathise. It doesn't feel nice being watched at work, wherever you work. This is what one nanny told me:
'I noticed the camera in the living room after my bosses had left for work on one Monday morning, so I felt very uneasy all day as I wanted to speak to my boss in person about it and ask why she hadn't mentioned it to me.
She told me that it was a security thing for when they were away etc. She showed me the camera outside which is the same one.
Just made me feel like they didn't trust me and I did not like the thought of being watched all day especially as it faced onto the dining room table as well where I ate my lunch. Just felt very unsettling thinking they were watching me.'
Often nanny cams are not nanny cams at all but security cameras, installed with the genuine intention of capturing criminals 'at work' should the need arise. But, as they may also capture evidence of you at work, it is your right to know that they are there.
Employer families should discuss the cameras with you at interview stage and make you aware that they are in place. Just as you may feel uncomfortable about it, they may be embarrassed or awkward, so bear that in mind.
To ensure a sound relationship between family and childcare provider, it's essential that everyone is open from the outset, regardless of whether there are cameras or not. Nannies, if your family doesn't mention security cameras at interview, you can, it's perfectly ok and within your rights to do so. If they say that they do have cameras, don't be put off, again feel free to ask them why they have the cameras, it may be nothing to do with having a nanny in the house. I understand that the idea of 'Big Brother' watching you or could watch you, might make you feel uncomfortable but you should try to forget about it and continue to do your job to the best of your ability – just as you would regardless of cameras.
If you ever have any questions, you know you can call me to discuss.
Hazel