Ten things you didn't know about….Mary Poppins!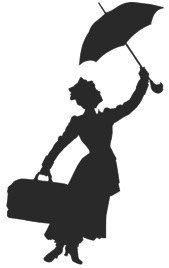 Julia Andrews nearly turned down the part. She had starred in 'My Fair Lady' on Broadway and so was waiting to see if she would be offered the lead role in the film. She wasn't and then beat Audrey Hepburn who played Eliza Doolittle of 'My Fair Lady' to a Golden Globe!
'A Spoonful of Sugar' was inspired by the polio vaccine – one of the song writers heard from his children how they had been given the vaccine in a sugar cube and it hadn't hurt a bit!
The author of the book, P.L. Travers hated the film. It had taken her almost twenty years to agree to the movie in the first place – they suspect ultimately did because she needed the money. L. Travers' story is depicted in 'Saving Mr Banks'.
Many of the nannies at the beginning were played by men!
Julie Andrews can not only sing beautifully but she is also a fantastic whistler! She whistles the robin's 'song' in the film.
The little boy who played Michael Banks was so afraid of heights that he was paid an extra ten cents every time he had to go up onto the roof!
Walt Disney called it his crowning achievement and …
His favourite song was 'Feed the Birds'. Some Fridays he would stop by the composer brothers' (the Shermans) office and ask for a personal rendition.
The film was pioneering with its animatronic (the robin) and special effects – the laughing scene.
It won 5 academy awards.
Will this one win any? I'm looking forward to seeing it – do let me know whether you like it too!