SWEET UMAMI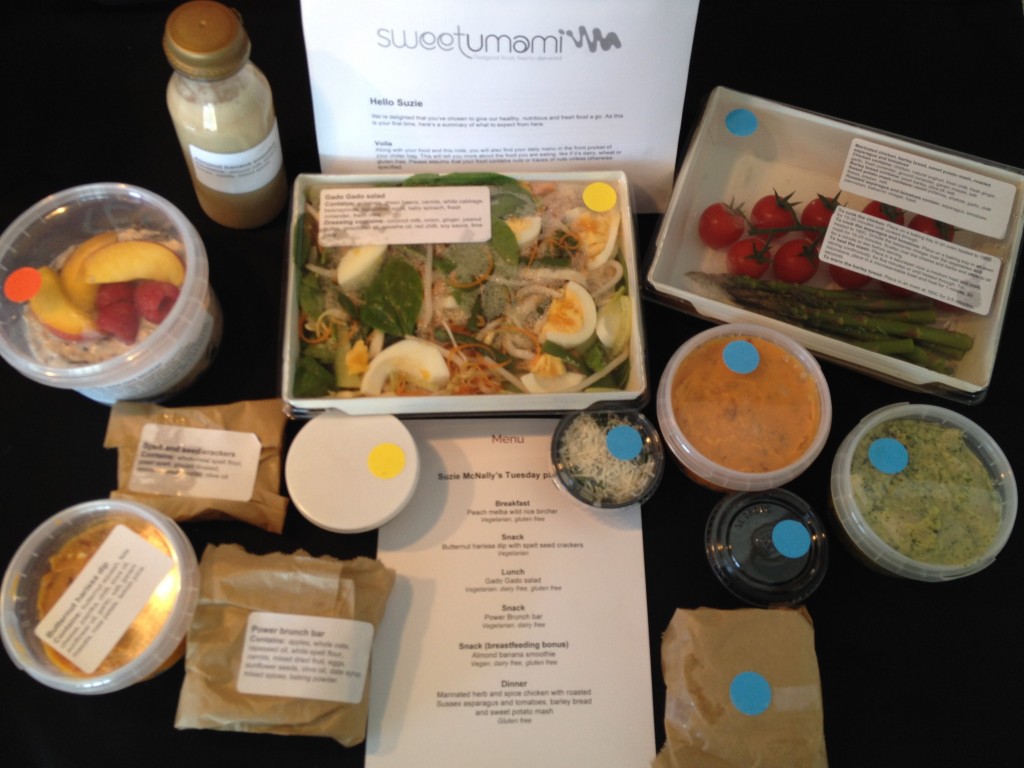 Just look at this gorgeous package of delights I received earlier this week from the lovely Hollie at Sweet Umami…..ALL VERY VERY EDIBLE!!
A whole day's supply of fantastic, freshly prepared healthy and exciting meals. 
Where to start……Breakfast I guess! 
Peach melba wild rice bircher, absolutely delicious! Both vegetarian & gluten free this dish is a great way to kick off your day. I had never heard of bircher before but I now know it to be a prepared breakfast muesli dish full of nutrition.
Lunch was Gado Gado salad, vegetarian, dairy & gluten free, which was just divine, fresh, crunchy and absolutely bursting with flavour this Indonesian salad came with a healthy sized pot of coconut & peanut dressing. Very satisfying, and left my mouth feeling really clean!!
Dinner this evening was to be Marinated herb & spice chicken with roasted Sussex asparagus & vine tomatoes, barley bread & a sweet potato mash. Roll on 7pm! Gluten free, but not lacking in any other area whatsoever, absolutely bursting with flavour, and filling!
Various snacks included a power brunch bar, consisting of apples, oats, carrots sunflower seeds and much more. Almond & banana smoothie and a spicy harissa dip with spelt seed crackers. One thing is for sure, you will not go short of food!
I have thoroughly enjoyed munching my way through these gorgeous dishes that have clearly been lovingly prepared with the finest of ingredients.
Sweet Umami cater for all, although we felt that our clients may benefit from the pre & postnatal packages. These are also great for surgery recovery, perhaps after a c-section and of course if you are breastfeeding, this is ideal. So either as a treat to yourself, or a gift from the grandparents Sweet Umami can deliver to your door freshly prepared expert approved gourmet meals, wholesome & with no added chemicals or additives all currently within a 10 mile radius of Hastings.
Also, these peeps are taking their delicious food to Parliament later this month, to represent just a slice of the fine array of food Hastings has to offer. We would like to wish them all the very best.