Nursery decorating tips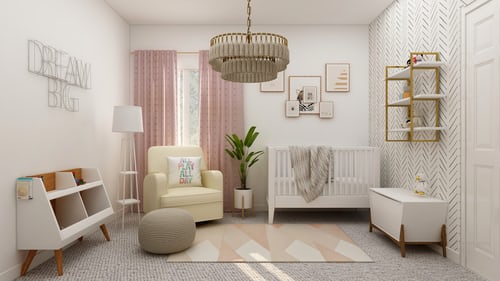 Nursery decorating tips
When you discover that you're expecting a baby, there are lots of emotions and, over time, a growing to do list.  As your due date approaches, the baby's nursery will climb that list and you might start thinking about how to decorate it.  Here are some ideas for you on how to decorate your new born's room but believe it or not, firstly, I'd recommend that you don't rush.
 Bringing baby home
When you first come home with your baby, it is recommended that the baby sleeps next to you through the night – that could be in a Moses basket or similar crib, but next to you and easy to reach for feeds and settling.  The baby could be sleeping in your room for quite some time which means that you don't have to rush to complete the nursery before they're born.
However, it's good to use what will be the baby's room for nappy changing and feeding so that it's not a completely alien environment for them when the time comes for them to sleep in there at night.  Also, if you employ a night nanny or maternity nanny, this could be their room for the duration of their stay.  So, although it doesn't have to be 100% baby ready, it's good to have this room furnished with some basics such as a feeding chair, changing table and perhaps some home comforts for your maternity nurse.
 Decorating baby's room
As local interior designer Anna Ward of Furnished by Anna says, "Decide on the overall feel that you'd like for the room – do you want it to be a calming space or does it need to be multifunctional with areas for bedtime reading, toys etc? A calming space can have a tonal or muted colour scheme, with an emphasis on rest and sleepy time. With a multifunctional room you need to create different pockets of areas to create tranquil sleep but also a creative feel for play."
Your colour scheme can be traditional gender colours, or you can be more gender neutral but rather than bold blues, pinks, greens or yellows, choose pastel shades.  Also do consider low VOC paints which are low on chemicals and odour.
You can use wallpaper all over, of course, but be mindful that you might not want to be redecorating ever few years when your little one has grown out of that design!  Use timeless patterns that will still be appealing as your child grows up.  Anna suggests, "Use wallpaper, wall stickers or wall murals to give different zones some personality and be inspiring."  There are so many different wall stickers on the market that you're sure to find something that suits the feel you want to create – most peel off without taking the paint with them but, from experience, do be careful!
 Nursery furniture
For a newborn baby, I would recommend that you need
A cot with mattress
Changing table with storage underneath for nappies, cleaning supplies etc
Chair for feeding, story reading
Storage for clothes – drawers are fine at this age
Storage for toys
There are so many places where you can buy these pieces brand new but do consider second-hand sites too and being creative – you could use the top of a chest of drawers for a changing table (make sure you never leave a baby unattended; the baby could roll off) or an old rocking chair as your favourite place to feed.
Please note: you shouldn't buy a mattress second hand though as there is thought to be a link to cot death so, please invest in a brand-new cot mattress.
Storage is surprisingly important as it's what your baby might first start to explore, as Anna Ward explains, "It's important to have a mixture of open and closed storage so babies and young children can see things.  Have things at different heights so that they can reach things they want easily as they get older. Cube storage is great for this with various baskets and soft bags to fill with toys that children can easily pull on to the floor but keep things out of sight when it needs to be quiet, tidy and calm."
 Soft furnishings for baby's room
I think the most important piece of advice is to buy blackout blinds!  These are a must in the pursuit of a baby waking at an acceptable time – summer mornings and evenings when it's light earlier and until later are taken care of (huge caveat – sleeping through might not happen overnight, with or without blackout blinds! But they do help).
Of course, the room needs other soft furnishings too such as rugs (great for tummy time), cushions and lighting.  Dimmable lighting is really helpful, and I love this tip from Anna: "Make the lighting a feature too – lots of feedback from clients that for some style of lights (like globe lights or lights with multiple bulbs), their babies lay on the floor and love looking up at them."
Think about durable, washable, soft fabrics for these extra furnishings – those that can be used indoors and outdoors are great.
Hopefully that has given you some decorating inspiration for your new baby's room.  My last tip would be that you and perhaps your maternity nurse are going to be spending quite a bit of time in there to say the least so the space has to work for you.  As your baby grows and you get to grips with motherhood you'll realise where you like things to be, what you need when and how you're using the room, so make sure you can move things around.
If you'd like a maternity nurse or to chat through what's involved, do give me a call on 01732 838417
Hazel.
p.s. a nappy bin is also very important!