National Storytelling Week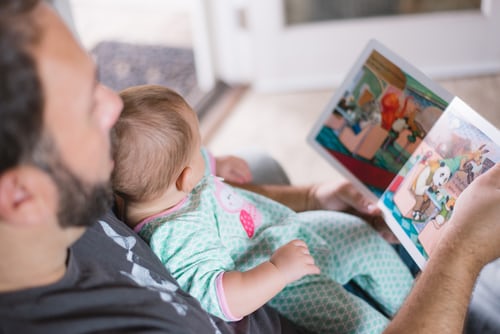 I watched the programme the other evening on BBC TV about Jay Blades of The Repair Shop and his quest to learn to read aged 51.  He had never been able to read stories to his children but wanted to try to read a story to his youngest daughter before she turned 16.  It was an interesting documentary and well worth a watch.
This week has been National Storytelling Week: reading stories to children is so important, as Jay identified and here are some reasons why.
Reading stories to children is time that you have together.  Whether you're reading to one child or more, it's a time when you can really engage with them without distractions.  Turn the TV off,  put your phone away, cuddle up and read.
Did you know that reading to children actually helps them to read and understand language?  You can follow what you're reading with your finger so that they can see where you're up to and the patterns of the words but even if you don't do that, you can ask them meanings of words and play with the sounds of words as you say them.  Have fun with the words!  Reading to your children also helps with their speech; use feeling and intonation and put on silly voices – your audience will love it!
As you know, a bedtime routine for children is so important and reading together can be a part of that, even as really small babies.  Dim the lighting, sit comfortably, and use a soothing voice with a gentle tale – nothing to make them more alert!  It doesn't matter if you read the same book each evening or just have a small library to choose from, children really won't mind.  And this routine can carry on until they're old enough to put themselves to bed, hopefully setting them up with healthy habits for life.
In this digital age, children are as familiar with tablets as they are with books!  Tablets can be a great source of entertainment for children, but I do think that there's something special about a book and a good story (I think a physical book is best for small children – as children reach the end of primary, some may prefer a Kindle or similar – anything to keep them reading!).  By reading to your child, you're introducing them to the escapism of a book, to using their imaginations and the journey that you're taken on by an absorbing story, and, importantly, how enjoyable that can be.
There are some books that don't have any words, just illustrations.  These books are fantastic for encouraging storytelling without rules – there isn't a story to stick to so imaginations can run wild!  As you don't have to stick to the story, the storytelling might take a little longer than normal so it might not be a good idea for a tired child or an evening where you're trying to go out!
Illustrations in books are critical for keeping children engaged.  If they can't read or aren't interested in following the words, then their eyes are likely to settle on the pictures and explore those – and that's absolutely fine.  Ask them questions about the images and what they see – can they tie them back to something you've just said?  In really detailed illustrations, can they spot ….?  We used to love that game!
Illustrations or pictures, the words on the page, pages, cover, spine – reading to your child introduces them to new vocab all about books.  Is there a list of chapters?  Can you show them the author's name? The illustrator's name?  It might sound dull but understanding the language of books is important for children's development.
Storytelling with your children is a special way of spending time together.  You can inspire a love of stories and the importance of storytelling every day, just as part of your child's routine.  What a gift.
My all time favourite stories for young children are The Gruffalo and Paper Dolls both by the wonderful Julia Donaldson and Some Dogs Do by Jez Alborough.  All three are safely tucked away ready for my children's children!
What are your favourites stories?