Do you want to feel smug?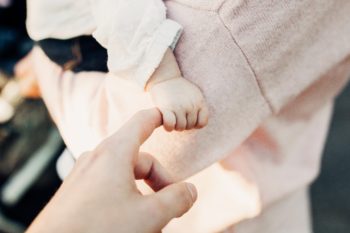 Imagine: a beautiful envelope lands on the door mat, mid October, inviting you to the neighbours' Christmas party. These parties are legendary on your street and you're thrilled to be invited! You're so busy planning your outfit and what constitutes a suitable gift that you forget to organise any childcare, assuming that your parents will be free to babysit.
Alas, they are not and last minute, you are desperately phoning round friends with teenage children, child care agencies and the like trying to find a babysitter. You end up using someone you don't know and instead of being able to relax at this fantastic party, you spend the whole evening wondering when it's ok to check in again with the babysitter – is every five minutes too frequent?
I know it feels too early but Christmas is not that far away and a big part of the festive season is the socialising – parties and catch-ups with friends. However, if those catch-ups are in the evening, to make sure that you can relax on Christmas nights out rather than regret going out at all, think about who will look after your little ones.
If you're very lucky, you might have grandparents on hand with an empty diary, ready to step in and spend more time with their adorable grandchildren or, if you already employ a nanny, be them live-in or not, they might be able to help too.
But if you're hoping for more of a "Mary Poppins" experience than an "Adventures in Babysitting" scenario, you need to start planning your babysitter now! It's a busy time of year for child care professionals!
But what do you do if this is the first time you've left your child with a babysitter and how do you even find someone you can trust?
Finding the babysitter
It goes without saying that you want to find someone trustworthy, reliable, knowledgeable and with experience of working with children. I have a bank of babysitters on East Green Child Care's books who are or have been nannies, teachers and midwives typically. I have met them all personally, can provide references and will be able to find the right babysitter for you – sometimes I even babysit!
You might find a babysitter by going off a friend's recommendation, or it might even be a friend who offers to babysit, but for very small children, if they have never met the proposed sitter before, an introduction would be a good idea. This doesn't have to be long but maybe invite them round for a cup of tea while your baby or toddler is awake or go to the park together so that the child can become acquainted and associates them with happy times. In order to establish a good relationship, I'd suggest you pay for their time for these visits.
It's good to establish rates in advance so that you're not having an awkward conversation after a night out as well as whether you'll provide a meal. East Green babysitters must be able to drive and have their own transport, and we stipulate that they consume soft drinks only.
Party night – how to leave the house on time!
You've found the right babysitter, hopefully met up before party night so that your little one might recognise them when they come in and you're planning your night out. Here are my top tips for babies and toddlers.
1. You might think it's a good idea to put your child to bed before you go out, without them seeing the babysitter at all. This works well if you can guarantee that your child won't wake up but, really who can do that?! Your child might be absolutely fine being comforted by someone other than you during the night, but they may start to develop bad associations with the babysitter and you being out which could impact your future social life!
Putting them to bed before going out might be a strategy that you can employ further down the line when you and they are more comfortable with the concept of going out and leaving them with a babysitter – then you'll be able to say, "If you wake up, Hazel will come in to see you," but for the first time, I'd say it's a no-no.
If your child is a young baby whose bedtime is relatively early in the evening, then make sure the baby and sitter have met before (see above).
2. We've established that it's a good idea for your child or children to see the babysitter before they go to bed so with that in mind, I'd recommend that you invite them round, 20-30 mins before your scheduled departure (unless your child is a young baby and inviting them round at 6pm when you're not due out until 8pm is going to be inconvenient). I understand that it adds to the bill at the end of the night (and means you need to be ready 30 minutes earlier!) but if it means that a good relationship is being built, it will ultimately be a sound investment. And also means you're not rushing through important info …
3. In the time before you go out, let the babysitter interact with your child calmly – gentle playing, reading a book, and also use the time to show the sitter around and talk them through the bedtime routine. It's a good idea to write it down too including emergency contact numbers, where you're going to be etc. – at East Green, we provide a record sheet for our families to complete for the babysitter
4. When it's time to go, make it swift. Try not to cry if it's making you emotional and don't return for an extra kiss and a cuddle. Your child might cry but they will most likely be fine a couple of minutes after you've gone.
5. On your return, pay the agreed amount without quibbling over the odd five or ten minutes. Just as the relationship between baby and sitter is important, so is the relationship between you and them. You all have to get along in order for it to work.
If you know you're going to have lots of nights out throughout December and need a babysitter in Kent or East Sussex then contact me now and revel in the smug feeling of being organised! Give yourself the gift of calm, happy in the knowledge that your children are in safe hands and they're booked in the diary …and then you can eat, drink and be merry with friends this Christmastime!
Hazel
There were some side effects as nausea, dry mouth and dizziness, but still better than the pains I had. Just follow the dosing and stack it with paracetamol. Small tip, I have been ordering it on tramadol online to be sure on the quality.