Cycling and children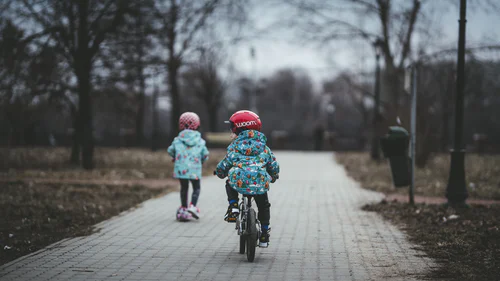 Cycling is going uphill.  In the UK, as we fight the obesity challenge and climate change, we're being encouraged to get on our bikes rather than stepping into the comfort of our cars and public transport.  Cycle lanes on our roads are more commonplace and cycling helmets are standard – if you're anything like me you might tut at those cyclists who don't wear one!
In the Netherlands, 60% of school children cycle to school whilst in Denmark it's 44% (58% in Copenhagen).
In England it's a poor 2%.
However, there's now a government initiative that wants to change that. Active Travel England (ATE) is tasked with helping local councils make it easier for people to walk and cycle rather than drive.  ATE have to be included in any town planning to make sure that it factors in those walking and cycling and has the power to reject plans if these groups are not being factored in.  They want children to be able to walk or cycle to school but understand that many parents think roads are too dangerous to allow that at the moment.  The Highway Code was updated this year with new rules and some of those benefit those walking and cycling so changes are afoot for sure.
Cycling is so good for our children.  It helps to develop perseverance (it takes a while to learn to ride a bike plus a lot of determination and persistence!), coordination, and fitness, and opens the door to a world of exhilarating fun!  Do you remember freewheeling down a big hill or going off road?!  And then there's BMX cycling too which you might have thought you'd left behind in your youth but it's definitely making a resurgence thanks to it now being an Olympic sport.  But before we look ahead to gold medals, let's just think about how we get our children started on bikes.
Stabilisers or balance bikes?
You are likely to have started cycling with stabilisers.  The benefit of stabilisers is that your child learns how to steer, pedal and brake, safe in the knowledge that they're not going to lose balance and fall off.  This helps to build confidence in cycling and a love of the independence of being on your bike, but your child has still got to learn how to balance on the bike…
Luckily, there's a bike to help with that!  The balance bike is like a bike but doesn't have any pedals.  Your child's feet can reach the ground and they get around using foot, rather than pedal, power.  Whilst they're racing around, gathering momentum to the point where they can take their feet off the ground, they are finding their balance on the bike which makes the transition to a bike with pedals but without stabilisers, that much easier.
Buy a helmet for your child as soon as they start to learn to cycle.  This will normalise helmet wearing for them whilst also protecting them when they inevitably fall over.
How to start them cycling
Firstly, let's recognise that this is a landmark moment for you and your child.  Riding a bike is a big milestone and like walking, another step on the way to independence.  However, I would recommend losing the rose-tinted glasses and starting this stage with patience – learning to ride a bike can take a while.
Take your helmet-wearing child somewhere with concrete paths as well as grassy areas.  Your garden may be perfect for this, and even more so as it's familiar, but otherwise a quiet local park will do the trick.  Cycling on grass can be difficult but it makes for a more comfortable fall should your child lose balance.
Depending on whether your child started on a balance bike or with stabilisers will affect how they get started – some may need a 'gentle push and run alongside' whilst others might be happy to go it alone.  Some will need a lot of practice, and several goes at you pushing and running alongside which is when the patience is required – they might be frustrated, become tired or just want to give up.  You know your child best so only you can decide whether you need to keep going or try another day.
Safe cycling
When you were younger you might have done a cycling proficiency course.  The course still exists but has had a rebrand and is now known as Bikeability.  It has a snazzy website which explains the different levels of the course and how your child or the whole family can improve their cycling skills.
The courses start when your child is around seven years old, and they need to be able to ride a bike.  The website encourages adults to take the course too which means that you can be a great role model to your child – given how roads have changed since we were children and have become busier, might not be a bad idea to have some extra lessons!
Former Olympian Chris Boardman who is the first commissioner of Active Travel England was on BBC Breakfast the other day and called this the 'golden age' of active travel.  If you want to encourage walking and cycling in your family, ask your nanny if they cycle and to incorporate 'active travel' into daily plans.  The fresh air and exercise will be great for your child as well as discovering places of interest and a feeling of independence.